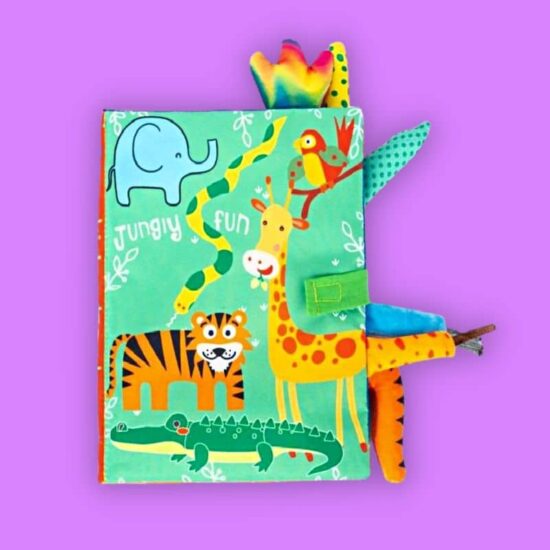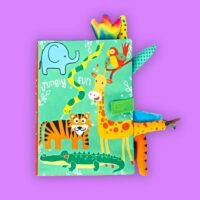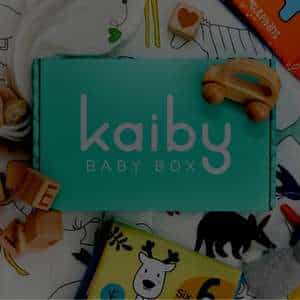 Jungly Fun Cloth Book
$12
In stock
The Jungly Fun Cloth Book is a captivating baby gift idea, specifically tailored for baby showers and newborns. Embellished with a mesmerising jungle theme, this cloth book has been thoughtfully designed to captivate and stimulate the developing senses of an infant, making it an exceptional contender for inclusion in any baby gift idea list.
This cloth book is designed with a focus on safety and comfort, rendering it a delightful item for small hands to hold and explore. Its vivid and colorful illustrations are guaranteed to attract the baby's attention, serving as a treasured companion during playtime or bedtime storytelling sessions.
Incorporating crinkling materials, the Jungly Fun Cloth Book augments the infant's auditory recognition skills while simultaneously encouraging the development of their motor skills. As infants explore the textured animal tails and interact with the pages of the book, they experience enriched sensory interaction, promoting early learning and cognitive development.
The Jungly Fun Cloth Book embodies the celebration of new parenthood and the marvels of early learning. This engaging and charming baby gift champions the joy of exploration and discovery, making it a standout choice in the world of early childhood educational gifts.
Pages:  8 (inclusive of cover and back)
Dimensions (cm): 18 by 15 by 3
Material: Polyester