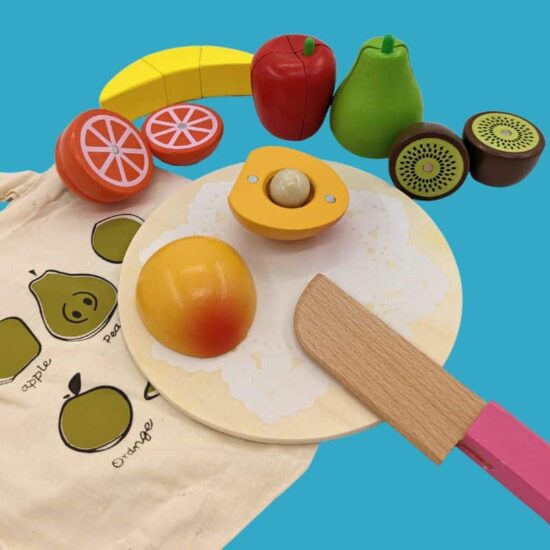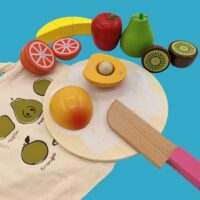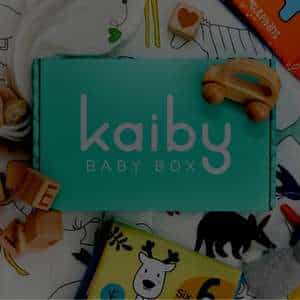 Wooden Fruits Set
$24
Out of stock
Comes with 6 wooden fruits, 1 wooden knife, 1 wooden chopping board and 1 hand carry bag. Pretend play and learn early math skill while your little one cuts the fruits into parts and making them whole.
The Wooden Fruits Set is a delightful educational toy designed to engage children in imaginative play and learning. This set, often considered an ideal birthday gift for young children, comprises a collection of vibrantly colored wooden pieces representing various fruits such as apples, bananas, oranges, and more.
Crafted with attention to detail, each piece in the set is smooth and child-safe, mirroring the appearance of real fruits. It is designed to stimulate sensory development and enhance recognition skills as children become acquainted with different fruits and their characteristics.
One of the many benefits of the Wooden Fruits Set is its ability to foster fine motor skills and hand-eye coordination. Children can practice cutting and sorting, using specially designed wooden utensils that come with the set. These activities provide an enjoyable way for children to develop essential life skills, all while playing.
Given its educational value and appealing aesthetics, the Wooden Fruits Set makes an attractive option in gift ideas for children. Whether for a birthday gift or a special occasion, the set is sure to captivate the recipient's interest and provide endless opportunities for exploration and creativity.
Packaged in a cloth bag for easy storage and transportation, this set is made from eco-friendly materials, promoting sustainability and quality. The Wooden Fruits Set is not only a toy but a creative tool that integrates learning with play.
Items: 6 pieces of fruits, a wooden knife, a wooden chopping board and a carrying bag.
Material: Wood