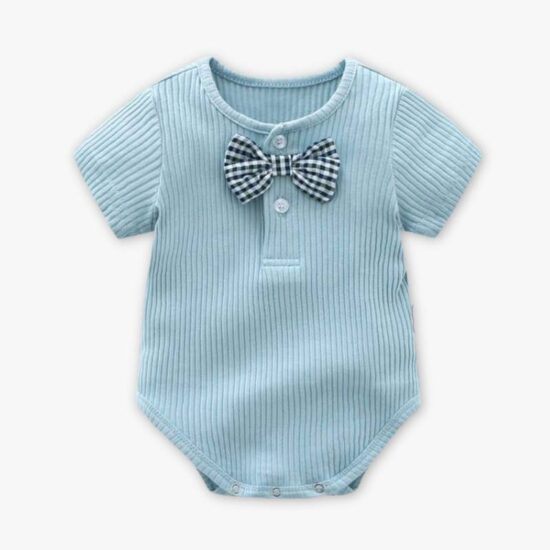 Little Gentleman Bowtie Romper
$20
Out of stock
Introducing the Little Gentleman Bowtie Romper – a charming addition to your baby boy's wardrobe that perfectly blends comfort with style. Crafted from 100% cotton, this romper ensures a gentle touch against your little one's delicate skin while providing breathability and softness throughout the day.
The romper features a dapper bowtie and crisp collar, adding a touch of sophistication and making it an ideal choice for special occasions or family gatherings. The design emulates a classic gentleman's outfit, but with all the comforts necessary for a baby. The neutral tone of the description ensures it appeals to a wide audience, focusing on the product's features and benefits.
Convenience is key with our Little Gentleman Bowtie Romper. It includes hassle-free snap buttons at the bottom, ensuring that diaper changes are quick and straightforward. The thoughtful design allows for easy dressing, providing a practical solution for busy parents without compromising on style.
The romper's durability stands up to daily wear and tear, maintaining its shape and colour even after numerous washes. This resilience, combined with the timeless design, makes our Little Gentleman Bowtie Romper a smart investment for your baby's wardrobe and a delightful gift option for new parents.
Dress your little one in our Little Gentleman Bowtie Romper, and watch as he captures the hearts of everyone around, all while basking in unparalleled comfort and style.
Material: Cotton
Suitable For Baby's Height (CM): 66 (6 to 9 months)