This article provides an overview of the top 20 online stores offering personalised baby gifts in Singapore.
The significance of gifting personalised items for newborns has seen a steady increase over the years, prompting a demand for specialised retailers. Personalised gifts, ranging from custom-embroidered blankets and towels to monogrammed onesies and laser-engraved wooden name blocks, offer an added dimension of thoughtfulness and sentimentality. These items frequently serve not merely as functional products but also as memorable keepsakes.
Covering a range of price points, from luxury to budget-friendly, these stores offer the ability to customise gifts online allows for a seamless shopping experience, meeting the needs of individuals who may be balancing various responsibilities, including work and family commitments.
As such, this article aims to serve as a comprehensive guide for those seeking to purchase personalised baby gifts in Singapore. By offering a curated list of online retailers, it facilitates easier decision-making for consumers looking to acquire unique and memorable items for newborns.
If you need more information on buying gifts, do check out our baby gifts guide here.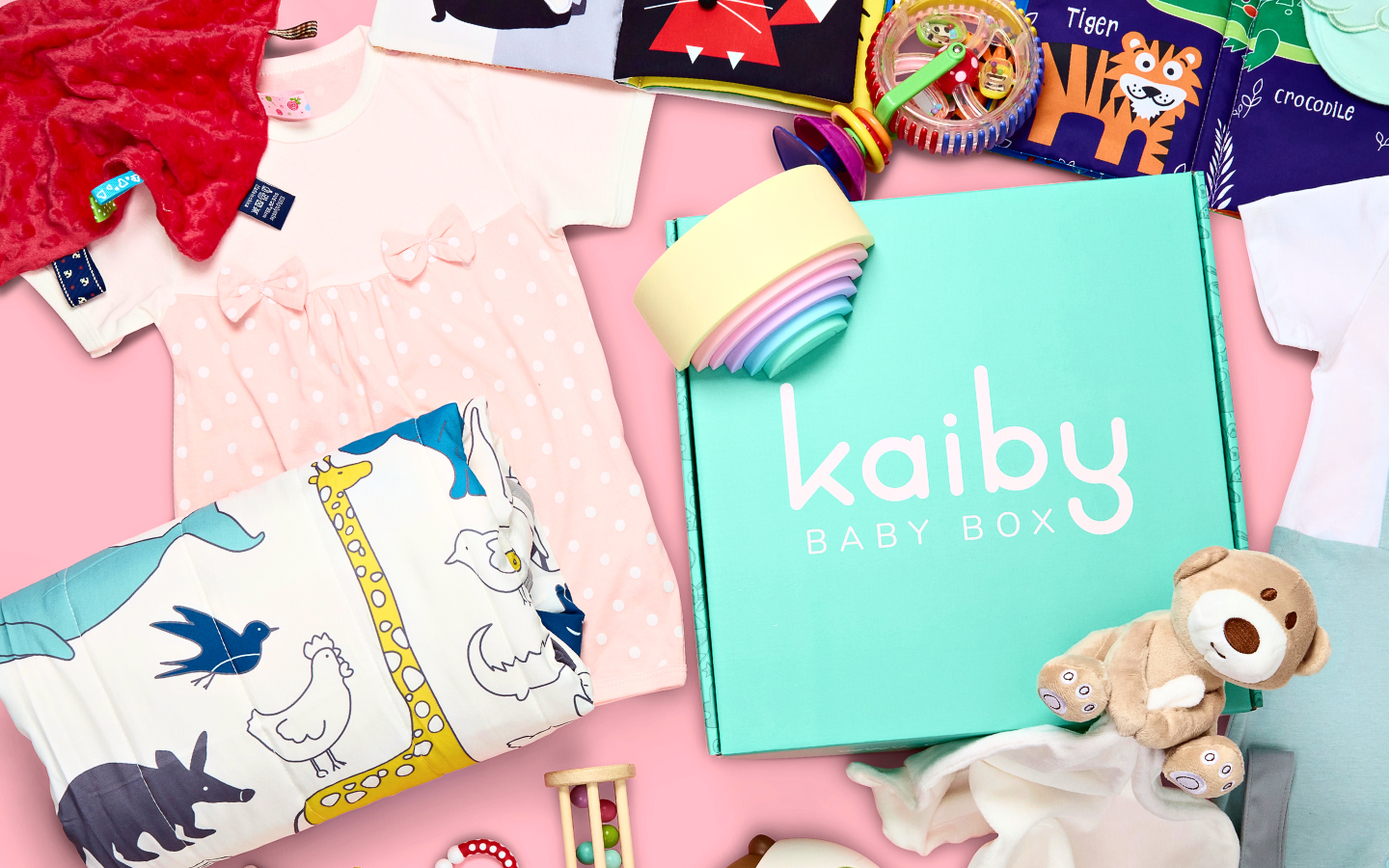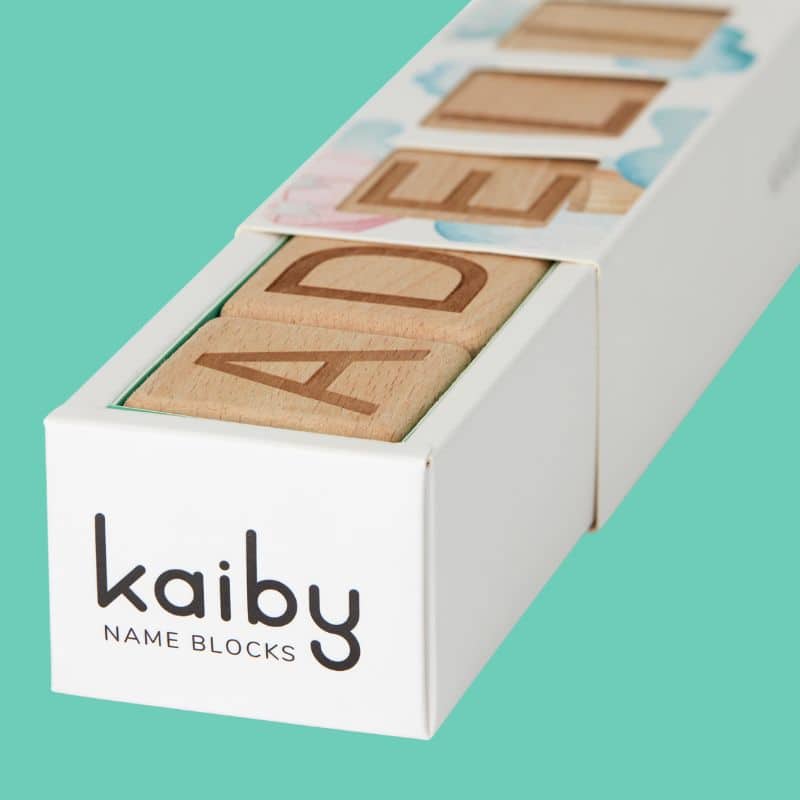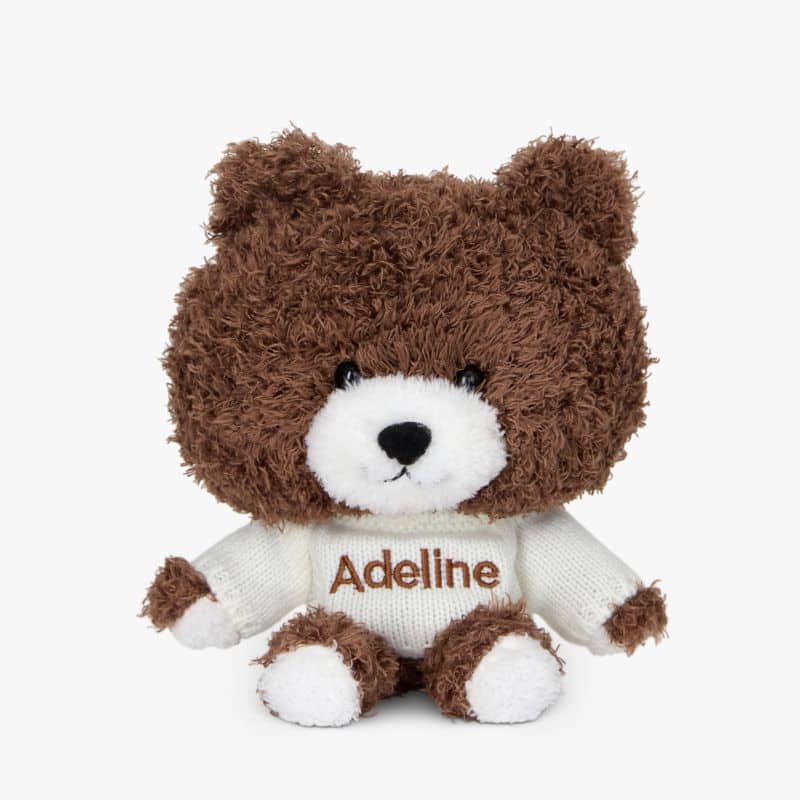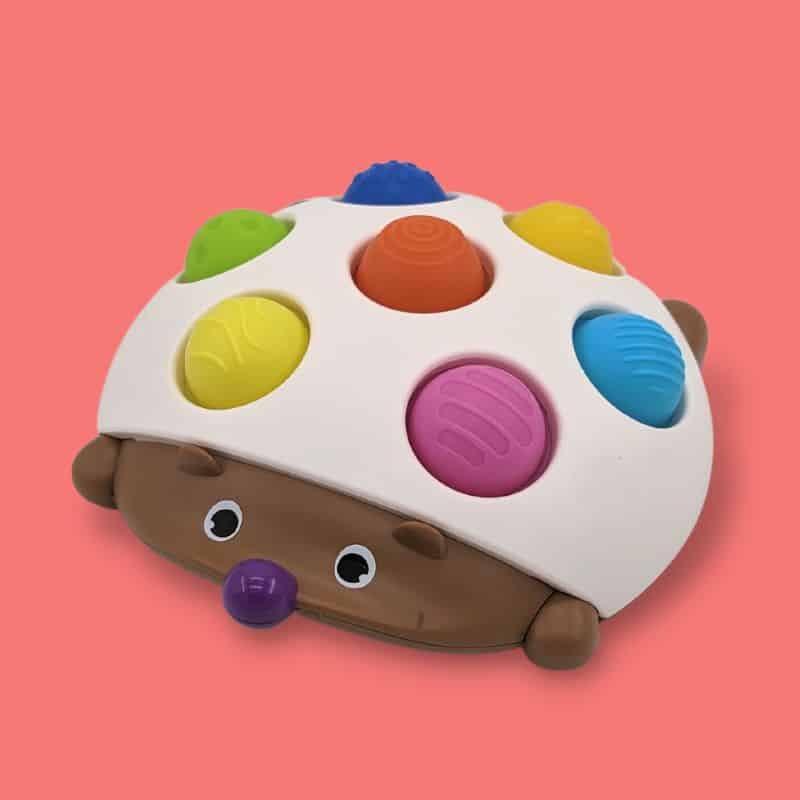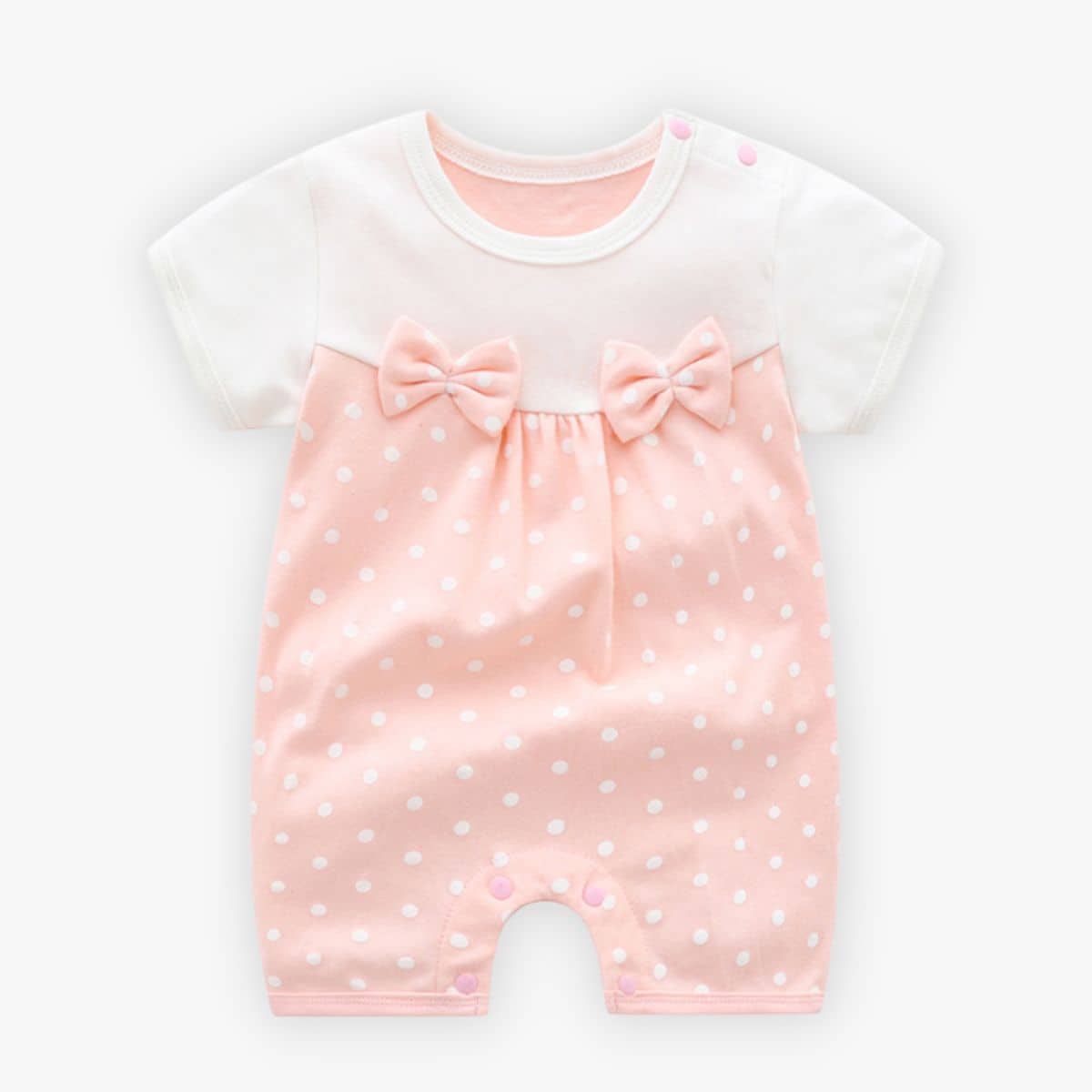 Kaiby box is a Singapore-based personalised baby gifts shop that encourages learning through playing. We're also the No.1 reviewed personalised baby gifts online store in Singapore.
At Kaiby Box, we are committed to nurturing healthy development and learning in babies. We believe that the best way for babies to explore the world is through hands-on play and interactive experiences, and of course, no screen-time. Unlike a typical baby hamper, we filled our Kaiby Box with mainly newborn toys and also offer many gift ideas for mummies too.
Personalisation adds an extra layer of significance to these toys. The baby's name becomes an integral part of the play, making them feel cherished and recognised. As mummies, we understand that every child is unique, and that's why we take great care in tailoring our gift to resonate with the little one's interests and personality. We offer personalised gift items such as the Kaiby Bear with name embroidery on sweater, wooden name blocks and comfy mini bear with name embroidery.
Join us and watch the baby thrive in a world of imagination and wonder. With Kaiby Box's personalised baby gifts delivered within 2 working days to the awesome mummies in Singapore, you can help to create a nurturing environment where learning through playing becomes a joyful experience for both the mum and the little one.
Website: www.kaiby.sg
Personalised Baby Gifts from Kaiby Box
Build A Baby Gift Box includes 5 steps where you can put together a truly unique baby gift box.
Here are the steps.
Select Baby Toys – Dozens of baby toys such as rattles, cloth books etc.
Select Baby items – Dozens of baby items such as swaddles, towels, bibs, rompers etc.
Select Personalised Baby Toy/Items – Includes Wooden Name Blocks & Kaiby Bear with Name Embroidery.
Select Gifts for Mummies – A selection of books, massager, flowers and face masks.
Select Gifts for Older Sibilings – A specially curated selection of toddler toys so that nobody is left out =)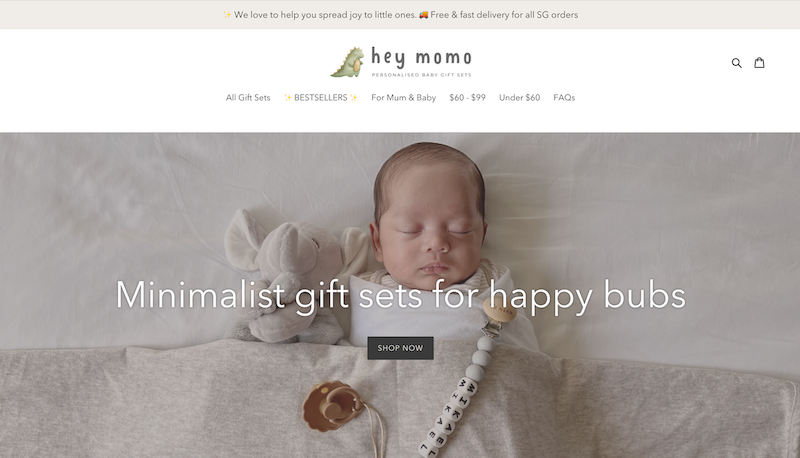 Hey Momo
HEY MOMO is a family-operated business specialising in meeting the needs of curious little ones and their families. Their focus is on providing stylish and affordable personalised baby gifts, including options like pacifier clips with name beads and cotton baby bodysuits with name embroidery. All this comes with an eco-friendly twist—they advocate for plastic-free packaging, a key aspect of their ethos.
Free shipping is a standard perk with every order, delivered within a 2 to 4 working-day window, public holidays excluded. In a pinch for time? They offer a next-day delivery service for an added $20.
Website: heymomo.co
Personalised Baby Gifts from Hey Momo
Newborn Luxe Essentials Gift Set includes:
Personalised Pacifier Clip
Carter's Plush/Lovey (OEKO-TEX® certified)
Skip Hop Stroller Toy
Storybook (Guess How Much I Love You by Sam McBratney or Dear Zoo by Rod Campbell)
Cotton Sleepsuit (Up to 3 months old)
Silicone Cup
Cotton Tassel Bib
Luxurious gift card & gift box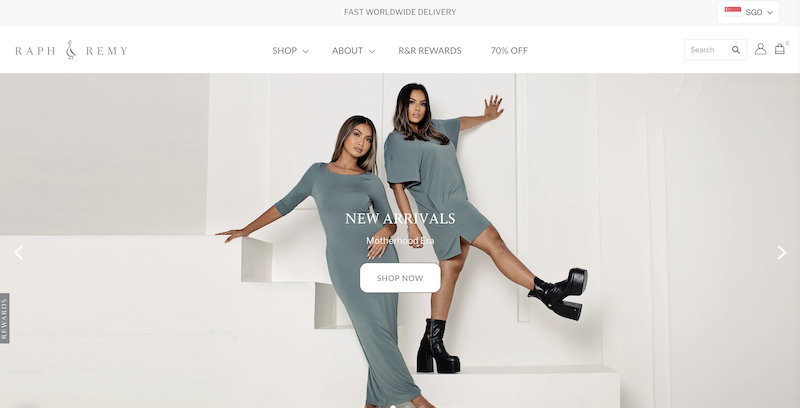 RAPH&REMY
RAPH&REMY specialises in eco-friendly essentials for women, babies, and kids, offering free delivery on orders over $99 and 2 to 3-day shipping. While the brand is committed to sustainable, high-quality products, they truly stand out for their personalised name embroidered blankets. This unique line perfectly blends quality with customisation, setting them apart in the market.
The company believes that caring for your family and the planet should be intertwined, a principle reflected in their business practices. They aim to enhance the customer journey by focusing on the emotional and transformative aspects of parenthood, adding touches of joy whenever possible. Each purchase also supports the Grow Bamboo Initiative, underlining their dedication to environmental sustainability.
Website: www.raphandremy.com
Personalised Baby Gifts from RAPH&REMY
Newborn Essentials Collection Gift Set includes:
1 x Premium Bamboo Newborn Onesie
1 x Premium Bamboo 0-3 Month Onesie
1 x Premium Bamboo 0-3 Month Baby Sleep Sack Knotted Gown
1 x Premium Bamboo 0-6 Month Reversible Slouch Beanie
1 x Premium Bamboo 0-3/3-6 Months Baby Socks, Duo Set
1 x Premium Bamboo 0-6 Month Velcro Baby Mittens, Duo Set
1 x Premium Bamboo 0-6 Month Baby Booties
1 x Premium Bamboo Swaddle
FREE Premium Canvas Tote Bag
FREE Gift Box & Gift Card
MyBabyGift
MyBabyGift is a boutique based in Singapore, specialising in personalised baby hampers and unique gifts for both infants and mothers. Every gift is elegantly packaged in MyBabyGift's signature gift box and accompanied by a matching, stylish shopping bag.
The company goes beyond merely delivering hampers; they add a uniquely personalised touch by offering complimentary embroidery of the newborn's name on selected items. This creates a lasting memento for the child. Additionally, special gifts for mothers, such as natural organic body products, are also available to celebrate the completion of the nine-month journey.
As an online business, MyBabyGift continues to operate, albeit with some expected delays due to circumstances beyond their control. All deliveries are fulfilled within two working days, and orders placed during weekends or public holidays are processed the next working day.
Their personalised range includes bodysuits, star-patterned blankets, hooded towels, and bibs, all of which can be customised with the infant's name.
Website: www.mybabygift.com.sg
Personalised Baby Gifts from MyBabyGift
All Personalised Hamper includes:
Personalised bodysuit with baby's name – 100% cotton white short sleeves bodysuit. Size 0-3 month or 3-6month for your choice.
Personalised stars blanket with baby's name – Size: 90cm x 100cm.
Personalised hooded towel with baby's name – Size: 80cm x 80cm. Available in white with blue\pink edges.
Personalised baby pillow with baby's name.
Personalised bib with baby's name.
MyBabyGift gift card with your personal greeting.
MyBabyGift signature baby gift box baby hamper beautifully tied up with satin ribbon.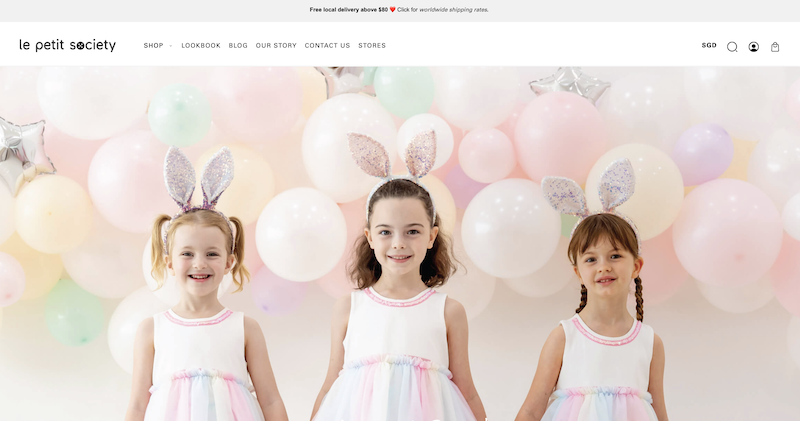 Le Petit Society
Le Petit Society was founded to fill a niche in the children's apparel market, guided by the belief that high-quality fashion should be within everyone's reach. The brand specialises in crafting durable, versatile clothing designed to accompany children through various life stages. Over the years, the product line has evolved to include adult clothing and coordinated family outfits, reinforcing the brand's position as a family lifestyle choice. All items are manufactured in Asia and cater to diverse age groups and occasions, emphasising both comfort and style.
The brand further personalises the shopping experience by offering custom name embroidery on baby gift items like baby swaddles and bonnet hats. Additionally, they provide free local shipping on orders above $80, with a delivery time frame of 2 to 5 working days.
Website: www.lepetitsociety.com
Personalised Baby Gifts from Le Petit Society
Little Elephant includes:
1 x Baby Organic Zip Sleepsuit in Elephant Print (Personalisable)
1 x Bath Cape – Shark in Teal (Personalisable)
1 x Baby Organic Short Sleeve Romper in Cloud Print (Personalisable)
1 x Organic Swaddle – Penguin (Personalisable)
1 x Organic Swaddle – Blue Stripes (Personalisable)
1 x Baby Organic Knotted Hat in Elephant Print (Personalisable)
1 x Bashful Blue Bunny Soother by Jellycat (Personalisable)
1 x Le Petit Society Signature Gift Box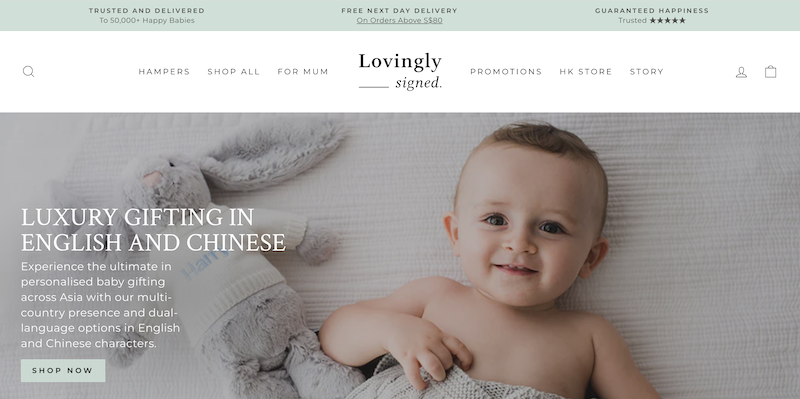 Lovingly Signed
Founded by a parent who had firsthand experience receiving thoughtful gifts for her newborn, the brand aims to offer a high level of quality and personalisation to new parents in the region. With a workshop located on Lower Delta Road in Singapore, a team of artisans is responsible for the careful embroidery on all personalised baby gift items, adhering to high quality standards.
The brand prides itself on being a unique personalisation gifting business. The focus is on celebrating new beginnings and aiding parents in creating memorable experiences with their newborns. Lovingly Signed offers a range of personalised baby gifts and hampers that are crafted in Singapore. Additionally, the brand provides free next-day delivery on orders above $80.
Website: lovinglysigned.com.sg
Personalised Baby Gifts from Lovingly Signed
Essential Bundle Set includes:
Cable Knit Blanket
Bashful JellyCat Bunny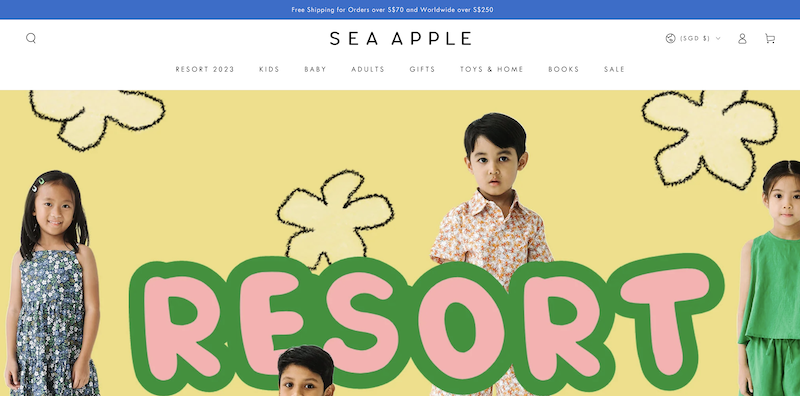 Sea Apple
The Sea Apple tree is among Singapore's ten most common trees, flourishing along Southeast Asian coastlines. This resilient tree inspired Sea Apple, a Singapore-based, sustainable children's clothing brand. Taking cues from simple life observations and the beauty of imperfection, the collections resonate with character and charm.
Focused on fostering the next generation's creativity and compassion, Sea Apple aspires to make the world both imaginative and kinder. The brand also offers personalisation services, including name embroidery on Jellycats and comforters, making each item uniquely special.
As for shipping, free standard courier delivery within Singapore is available for orders above SGD $70. Standard orders take 1-2 business days for processing, plus an additional 5-7 days for personalised items. Once dispatched, the parcel usually arrives within 1-3 business days.
Website: seaappleshop.com
Personalised Baby Gifts from Sea Apple
Baby Girl Berries Gift Set includes:
Oranges Ruffled Playsuit
Letters to My Daughter
Liewood Rose Yoko Mini Cuddle Cloth 2-pack
Personalisable Jellycat Bashful Bunny Tulip Pink Medium
Our signature Greeting Card
Our signature Magnetic Gift Box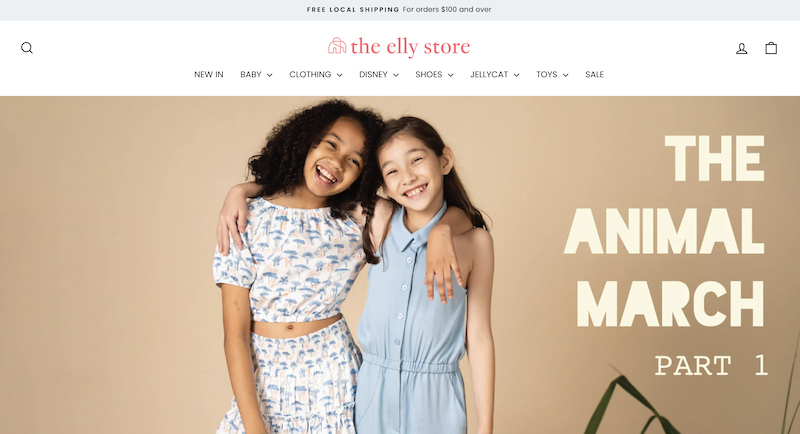 The Elly Store
Elly is a Singapore-based children's clothing brand offering stylish yet comfortable girls' dresses. The brand is known for its Chinese New Year collections, featuring kids' cheongsams and mandarin-collared shirts for boys.
In addition to clothing, Elly also sells personalised baby blankets, bibs, and towels. For personalised orders, customers should allow up to five working days for completion. Free standard courier shipping within Singapore is offered for orders exceeding S$100, calculated after any discounts have been applied.
Website: www.theellystore.com
Personalised Baby Gifts from The Elly Store
Hunny Bunny includes:
Sleeveless Romper – Cream Bamboo Tiles (6M)
Bamboo Swaddle – Pastel Pandas
Hunny Bunny Stacker
a luxury turquoise keepsake box personalised with baby's name.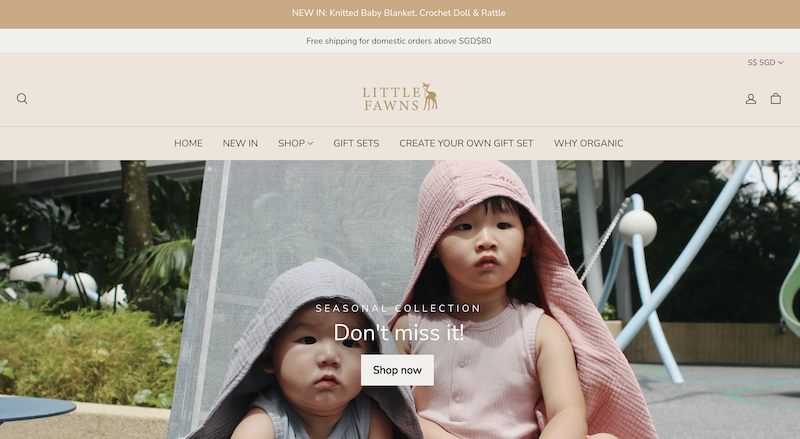 Little Fawns
Initiated by a group of friends with a fondness for children, the brand operates on the belief that all infants deserve a level of care akin to a gentle touch from their close ones. Every product in the Little Fawns range is meticulously curated and sustainably sourced, designed to create enduring memories for families. Utilising natural cotton materials that are lightweight, soft, and breathable, the brand aims to provide comfort for infants' delicate skin.
Little Fawns offers free shipping on domestic orders within Singapore exceeding S$80 and typically requires 2-5 business days for delivery. The brand also provides personalised baby blankets featuring name embroidery.
Website: littlefawns.co
Personalised Baby Gifts from Little Fawns
Fawn Of You Gift Set – Boy includes:
1 x Organic Hooded Towel
2 x Organic Cotton Swaddles with bag
2 x Organic Ribbed Short Sleeve Rompers
2 x Organic Cotton Bibs
1 x 2 Sided Wooden Leaf/Animal Milestone Discs
1 x My Deerest Teether
Handwritten Gift Card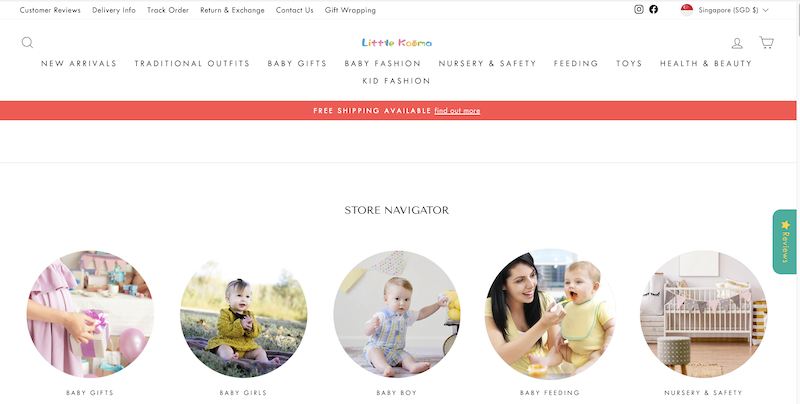 Little Kooma

Little Kooma is a Singapore-based brand specialising in baby products, offering a curated selection of comfortable, stylish, and affordable baby wear and gifts. The brand aims to meet the needs of discerning parents who seek only the best for their children.
Delivery within Singapore takes 2-3 working days, and orders above SGD $35 qualify for free shipping. The brand also provides a range of personalised plush blankets in various designs.
Website: www.littlekooma.com
Personalised Baby Gifts from Little Kooma
Koala Set includes:
3 x bibs
2 x pair of socks (0-9 months)
1 x romper (0-12 months)
3 x pairs of mittens (New Born)
1 x koala plush toy
1 x plush blanket (76X91cm)
3 x packs of wet wipes (40 sheets per pack)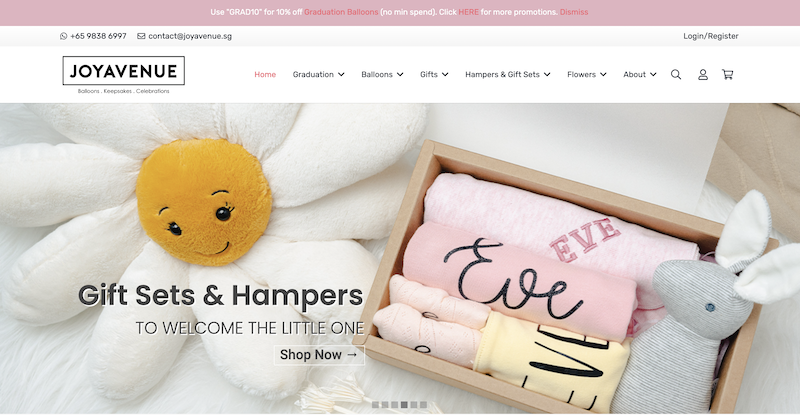 JoyAvenue
JoyAvenue focuses on enhancing special events and celebrations in Singapore. Specialising in customised balloons, the company also provides dessert table and venue styling services. Personalisation is available for baby gifts, including swaddles, onesies, bibs, and mittens. Delivery is not complimentary.
Website: joyavenue.sg
Personalised Baby Gifts from JoyAvenue
Hello Baby Gift Set includes:
1 Swaddle
1 Onesie
1 Bib
1 Mittens
1 Infant toy (rattles and squeaks)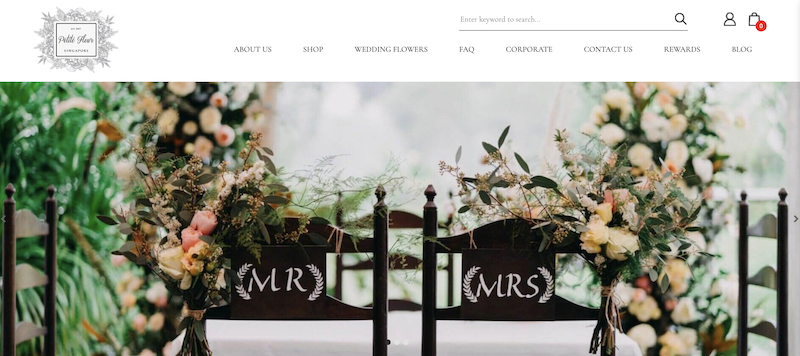 Petite Fleur SG
Petite Fleur is a florist in Singapore. The company offers fresh, handcrafted bouquets, distinguished by attention to detail, colour, and design. Utilising only premium blooms ensures the flowers have an above-average lifespan. The team's passion for connecting people through flowers manifests in the creation of elegant bouquets. Additionally, the company offers personalised balloons featuring the baby's name in their baby gift sets.
Website: www.petitefleursg.com
Personalised Baby Gifts from Petite Fleur SG
Hot Air Balloon – Baby Gift Set includes:
Floral arrangement with preserved hydrangea (real flowers that last forever), cotton plant and dried flowers from Italy.
Fragrance-Free Baby Wipes, a Jellycat bunny And a Blanket.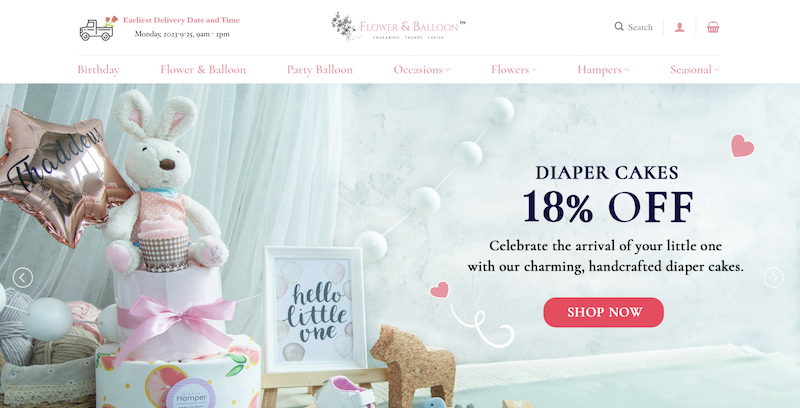 Flower and Balloon
Flower & Balloon is dedicated to combining nature's finest offerings with festive and celebratory balloons. The company features an extensive range of premium flower and balloon arrangements. Additionally, they offer the option to personalise balloons with the baby's name. All these products can be conveniently purchased from their online store, and free delivery is included for all orders.
Website: flowernballoon.com
Personalised Baby Gifts from Flower and Balloon
Sugarplum Babybum includes:
Kayen & Kayes™ 100% cotton 3-piece Gift Set ( Pink ) ( Mitten/Romper/Sock )
BabyK™ Bamboo Silicone Spoon ( set of 3 )
BabyK™ Silicone Giraffe Toy
BabyK™ Silicone Dinosaur Teether
Wooden Crate
Personalised Text On Balloon with 4 Mini Balloons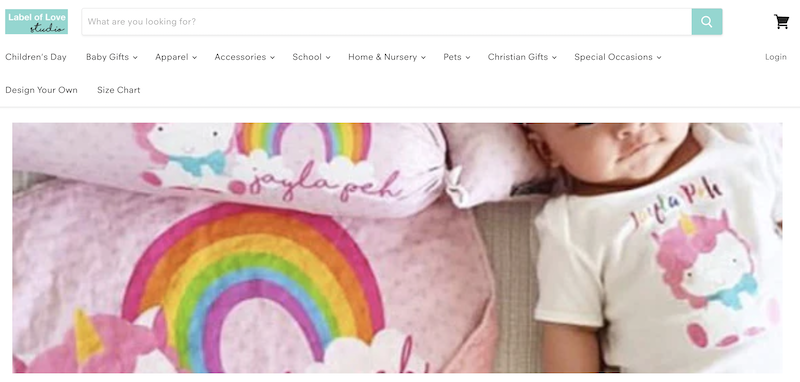 Label of Love Studio
Label of Love Studio offers a diverse range of products, from name labels and baby clothing to blankets, pillows, and beansprout pillows. The brand operates under the ethos that functionality and aesthetic appeal can coexist. They strive to blend robust design with high-quality materials across all their products, aiming to offer value without compromising on quality.
The company also sells personalised newborn gift boxes and hampers. The baby gifts include personalised rompers, pillowcases with inserts, bolster cases with inserts, bibs, and brown gift boxes featuring personalised ribbons.
Website: www.labeloflovestudio.com
Personalised Baby Gifts from Label of Love Studio
Delightful Baby Gift Set includes:
Personalised romper
Personalised pillow case with insert
Personalised bolster case with insert
Personalised bib
Brown gift box with personalised ribbon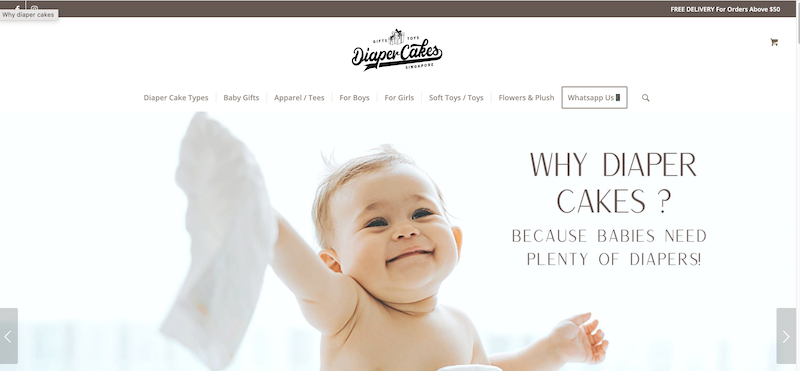 Diaper Cakes

Diaper Cakes Singapore offers an good selection of curated diaper cakes and baby gifts for various occasions. Each diaper cake is hand-crafted in a clean, pet-free, and smoke-free setting, utilising quality materials and diapers. The company takes pride in assembling unique gifts designed to convey heartfelt messages to loved ones, family members, friends, or valuable clients. Free next-day delivery is available for orders above S$50.
The company also provides personalisation services for a variety of products, including: customised diaper cakes, stuffed animals (iron-on names available on tee shirts) and baby gift sets (offering name stickers on the gift box cover).
Website: diapercakes.sg
Personalised Baby Gifts from Diaper Cakes Singapore
1 Tier Diaper Cake – Jellycat Bunny Baby Gift Hamper includes:
18 "Huggies" Disposable Diapers in M size (Fits babies 5-10kg)
1 Pair of Soft Sole Pre-Walker Shoes
1 Flannel Cotton Receiving Blanket (76 x 76 cm)
1 Baby Feeding Bib
1 Jellycat Light Pink Bunny Plush wearing a Tee Shirt with Baby's Name! (31cm)
1 Premium Diaper Cake Gift Box Packaging (46 x 22 x 22cm)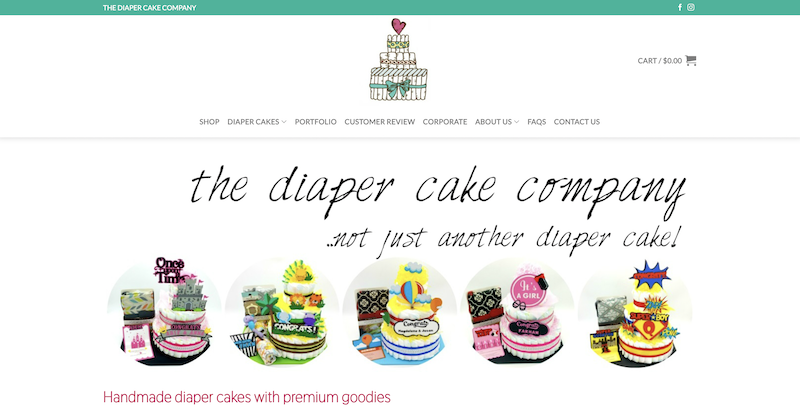 The Diaper Cake Company
The Diaper Cake Company offers a contemporary approach to baby hampers, featuring not just diapers but also a variety of practical, organic or natural products that prove useful in baby care. Personalisation of the diaper cakes with the baby's name is available, requiring a lead time of three days.
Customers can select from an artfully designed array of diaper cakes to convey their congratulations on the arrival of a new baby. Designed to provide parents with essential items for their journey into parenthood, each gift bundle contains hidden additional goodies within the diaper cake, elevating the experience of unwrapping a baby hamper. The company provides free delivery for weekday evenings (after 7 pm) and weekends.
Website: tdcc.sg
Personalised Baby Gifts from The Diaper Cake Company
Mummy & Baby Indulgent A includes:
54pcs of Merries Diapers (3 tiers)
Handmade Card for your personal message
Aden + Anais Swaddle*
Apple Park Organic Blankie Rattle*
Apple Park Organic Plush Toy*
Little Innoscents Organic Starter Pack of 5
Little Innoscents Milky Whites Toothpaste
Little Innoscents Paw Paw Balm
JJ Cole Diaper Clutch*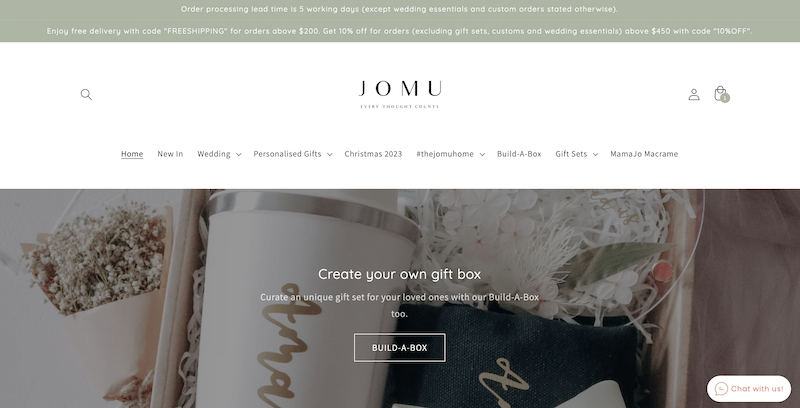 JOMU
The Jomu Co represents a fusion of hand-calligraphy with lifestyle products, all enhanced by a personalised element. Originating from a modest studio, each item is meticulously assembled and hand-calligraphed. The brand's ongoing experimentation with various writing surfaces and mediums allows for a diverse range of materials to be utilised, including wax, soap, fabrics, acrylics, wood, ceramics, glass, marble, and paper. Now, The Jomu Co offers an array of customised products that span home and living, wedding decor, as well as gifts and favours.
Among the customisable items are personalised baby gift items such as the Personalised Rattan Baby Memory Books, Personalised Accessories Hangers, and Baby Announcement Calligraphy Onesies.
Website: www.thejomuco.com
Personalised Baby Gifts from JOMU
Baby One Year Milestone Photo Board includes:
1 x Baby One Year Milestone Photo Board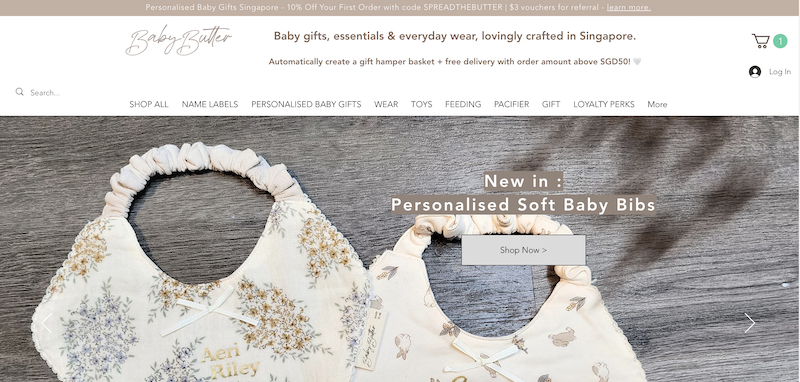 Baby Butter
Baby Butter is a Singapore baby gifts, essentials and everyday wear online store. One of each prominent personalised baby gifts is a 100% soft cotton baby romper featuring customised alphabet and name details. Thoughtfully crafted in Singapore, each romper is ribbon-tied and comes with a complimentary Baby Butter Signature Canvas Pouch.
Website: www.babybutter.com.sg
Personalised Baby Gifts from Baby Butter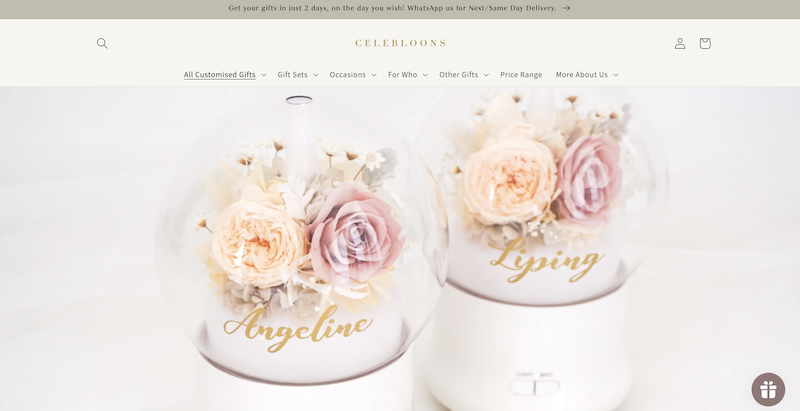 Celebloons
Celebloons is a Singapore-based company specialising in customised gifts. They aim to be part of life's every occasion, helping customers express gratitude, encouragement, and appreciation to those who matter most. Their goal is to offer a meaningful, enjoyable, and seamless gifting experience, enabling their creations to become treasured stories among loved ones.
The company focuses on designing and curating gifts that strike a balance between personalisation, aesthetics, functionality, quality, and creativity. They offer free shipping on orders over $120 and feature baby gift items like personalised wooden plaques with the baby's name.
Website: www.celebloons.com
Personalised Baby Gifts from Celeboons
Dear Little Koala includes:
Glitter & Spice pacifier clip and teether
Customisation on plaque
Complimentary greeting card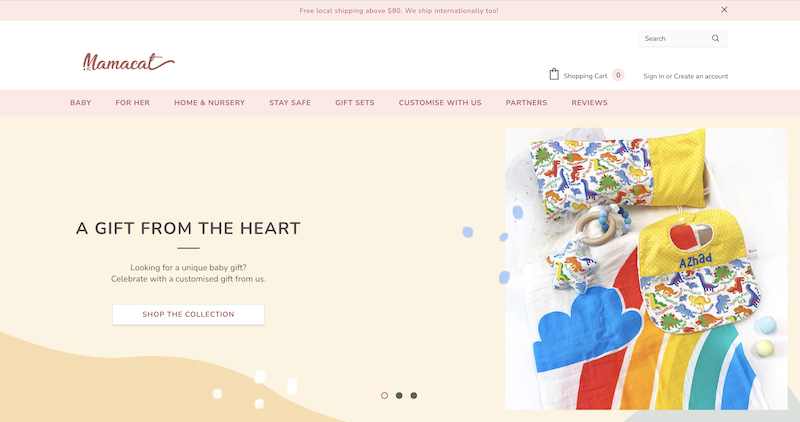 MAMACAT
MAMACAT handcrafts elegant yet functional items for both babies and mothers, including beanie pillows, bibs, teething toys, minky blankets, and baby carrier accessories. In addition to baby-mother items, they also produce pouches, fabric wallets, scrunchies, and adult headbands, which serve as excellent gifts for friends or personal treats.
They offer free local shipping on orders above $80 and feature products like personalised beanie pillows, nylon bow headbands, stuffed toys, and taggie blankets.
Website: www.themamacat.com
Personalised Baby Gifts from MAMACAT
Sweet Unicorn Stars Gift Set includes:
Beanie pillow + Name w/o frame
Nylon Bow Headband
Rattle Giraffe toy with taggie ribbons
Taggie Blanket (backed with minky)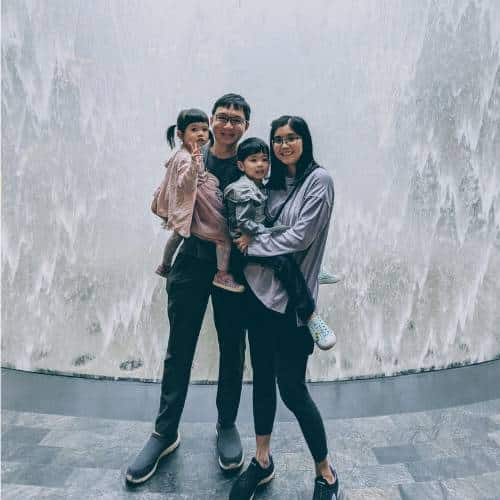 About Author
Kaiby Box provides boxful of curated toys to help new parents take the guesswork out of baby's learning journey.
Founded by Adeline, an early-childhood teacher, she has long valued the importance of toys as the tools for kids to learn.